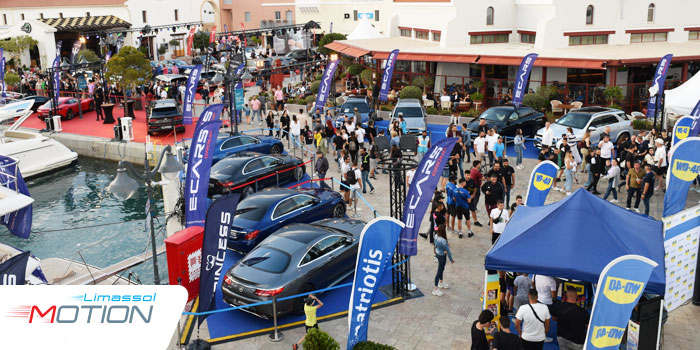 29 May

16 – 17 September 2023, Restart your engines – Motion Show!

Are you a car enthusiast, a motorcycle fanatic, or simply someone who appreciates the beauty of innovative transportation If so, mark your calendars for September 16th and 17th 2023, as we invite you to the most exhilarating motor and motion show of the year! Get ready to feast your eyes on a mind-blowing array of cars, motorcycles, and various wheeled means of transport, all in one place. The best part Admission to this awe-inspiring event is absolutely free!

Taking place at the Limassol Marina, this two-day extravaganza promises an unforgettable experience for everyone. Whether you're a fan of classic automobiles, cutting-edge technologies, or simply a curious individual with an interest in transportation, this show has something for you.

On Saturday, September 16th, the event kicks off at 4:00pm and continues until 9:00pm. It's the perfect opportunity to immerse yourself in the electric atmosphere of the show as the sun begins to set, creating a captivating ambiance. On Sunday, September 17th, the doors open bright and early at 10:00am, allowing you to make the most of your day until the show concludes at 8:00pm. Plan your visit accordingly, as you won't want to miss a minute of the action!

At this motor and motion show, leading manufacturers, innovative startups, and cutting-edge technology companies will come together to showcase their latest creations.

But that's not all! In addition to the mesmerizing vehicles and cutting-edge technologies, the motor and motion show will feature an array of new products and services related to the automotive world. Discover the latest accessories, performance enhancements, and state-of-the-art services that cater to the needs and desires of car and motorcycle enthusiasts.

Whether you're a hardcore gearhead or simply intrigued by the world of motion, this show offers a unique opportunity to immerse yourself in the realm of wheels. Engage with industry experts, meet fellow enthusiasts and indulge in the electric atmosphere that only a motor and motion show can provide.

Bring your friends, bring your family and experience the thrill of the motor and motion show without breaking the bank.

So mark your calendars, set a reminder, and join us on September 16th and 17th 2023 at the Limassol Marina. Whether you're a die-hard car fan, a motorcycle lover, or someone curious about the latest innovations, this motor and motion show promises to leave you inspired, amazed, and longing for the open road. Don't miss out on this incredible opportunity to witness the future of transportation, all under one roof, and all for free!